No weird beauty treatments… Let's age gracefully!
Ladies, almost all of us want to look younger with beautiful, radiant skin. Nowadays we have access to information about a plethora of skin care products and ingredients like bee venom, snails, poop bird… you've probably heard about facials named "Penis facial", and "Bird poop facial". Some estheticians claim "the bird doo-doo make my clients feel refreshed". I learned that bird droppings were a good option to remove makeup in 17th century Japan but we live in the 21st century! The bird poop mask might help with exfoliation but I prefer to use and recommend only science-based products. The serum used during the "penis facial" might make the skin look better because it contains epidermal growth factor produced by fibroblasts taken from the discarded foreskins of circumcised Korean boys. But the famous NY esthetician who incorporates this serum during her treatment also uses a lot of machines and lifting massage techniques.
My dear customers and friends, dehydrated bird poop, gold, or snails will not do miracles for your skin. Only a  daily skin care regimen, healthy eating habits, exercise, and sleep will improve your natural glow, but we will continue to age regardless. Speaking as a biologist, please have realistic expectations about all the serums, oils, and creams available in stores or online and don't rush to buy any skin care product before you do your own research.  As an esthetician, my wish for you is to be pampered as often as you can because you deserve it. And my last piece of advice? Embrace life!
______________________________________________________________________
Why do I choose the low-level light therapy Celluma in my esthetics practice?
To manage a variety of pain and skin conditions (provides three different wavelengths to work synergistically)
Safe, clinically proven, and FDA cleared
Non-toxic, non-invasive manner to achieve healthy, youthful glow
Flexible, and conforms closely to the treatment area for optimal effectiveness unlike other LED devices
The only all-in-one low level light therapy device designed
Celluma is part of my Signature Facial because research done in multiple studies have shown significant improvement regarding the tone, softness, smoothness, elasticity and firmness of skin after the application of specific wavelengths of light energy to tissue.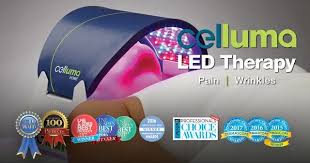 ___________________________________________________________
Do you experience a lot of dryness during winter months?
You probably wonder why your daily moisturizer doesn't solve this problem. It's because when the air outside is cold and dry, water in our skin evaporates more quickly. A good oil added to your daily regimen will prevent the trans epidermal water loss, the evaporation of the water that our skin contains.
My recommendation is Medik8 Glow Oil a blend of 12 essential oils. Mix a few drops with your moisturizer.
Also, the Sqoom Technology with the innovative xCential H+ serum that I use during the "Hydra Boost Relaxing" facial give the skin intensive moisture and make it look beautiful and more radiant. If you have any questions, please give me a call! I'd be happy to talk to you more about your moisturizing regimen and the Medik8 Glow Oil.
___________________________________________________________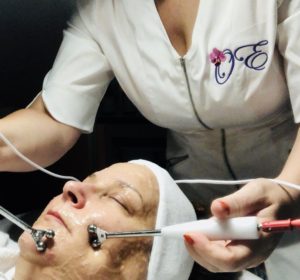 Why is the "Nue Fusion 200" my favorite micro-current machine?
This machine helps everybody by firming the skin, reducing the fine lines, wrinkles, facial puffiness, and brightening the eye area. It is made in United States, and it allows me to customize to my client's needs using different programs for firming and toning each area of the face and neck. Clinical trials were performed at the University of Washington, for measuring the benefits of Micro-current and the study has shown: collagen was increased by 14%, elastin by 48%, and blood circulation by 38%.
All my clients who tried the "Nue Fusion 200" are very pleased with the results.
You can check out this short video made by CNN featuring the "Nue Fusion 200"
If you are looking for a more youthful appearance, I invite you to add one micro-current treatment on your next facial.