Being stuck at home sucks! I know that you might miss a professional facial massage, or the relaxing atmosphere from a spa, but for now I want to show you how you can give some energy to your skin, and enjoy self-care.
You will need:
Your skincare products (please note that if you want to purchase any of my favorite products you will need to text or call me and I will ship them)
Small towel or washcloth
A hair tie is not mandatory but it would be helpful if you have long hair
An app with favorite songs
A place where nobody will disturb you with any questions or requests. I know that is a bit challenging when you have little kids
First turn on the music and let's start…
Cleanse and hum. YESSS!! Apply your cleanser, massage it and hum the song that you are listening. With a warm washcloth (towel) remove the cleanser but don't stop humming until your face is ready for the next step.
My favorites:
NRJ-Net Revitalizing cleansing mask ($37) – for all skin types, except sensitive skin.
If your skin is sensitive try Net-Apax Prebiotic Cleansing mask ($32)
Exfoliate and breath exercise. Apply the exfoliator and instead of just waiting for the next 5-10 minutes, better do some breathing exercises or… take a selfie, send it to your friends, or post it on my business page. I would love to see your beautiful face! Keep in mind that masks based on enzymes like warm and wet environment. Here is my tip: use a shower cap to cover your face but first cut in small holes for eyes and nose so you can breathe!!
My favorites:
Meder Enzy-Peel Double action mask ($54)– normal, oily, pigmented skin
Environ Intensive Revival mask ($62)– mature skin, fine lines and wrinkles.
Environ Hydrating Clay Mask ($31)– sensitive skin
Apply serum and do face exercises. I know that not everyone uses serums or concentrates but I highly recommend them because they have a high concentration of active ingredients. The serum application is the perfect time for some funny face lift exercises: look up and stick your tongue out, wink with just one eye keeping the other open, look to the ceiling, raise the lower eyelids upwards to make a strong squint…
My favorites:
Environ Vita-Peptide C Quence Serum 1-4 (Step Up System) ($98-$125)-combats the visible signs of aging
Meder Red Apax Concentrate ($65) – for hypersensitive skin, prone to redness, suffering from rosacea and irritation. Also, a perfect tool after laser treatments.
Mask and stretching exercises. Choose a mask that will address your skin condition or concern and for the next 15-20 minutes just do what it feels good for your body. Stretch, massage your feet, maybe some yoga … I like to dance while I have a sheet mask.
My favorite is Meder Hydra-Fill (pack of 5- $54). It stays in place so no need to lie still for 20 minutes, stores 30ml active gel (thanks to a Japanese imbibing technology), and it offers an instant hydration.
For puffiness, the Lipo-Oval mask does wonders.
Myo-Fix gives a perfectly radiant skin and serene expression.
Eu-Seb is great for oily, inflammation prone skin with blemishes.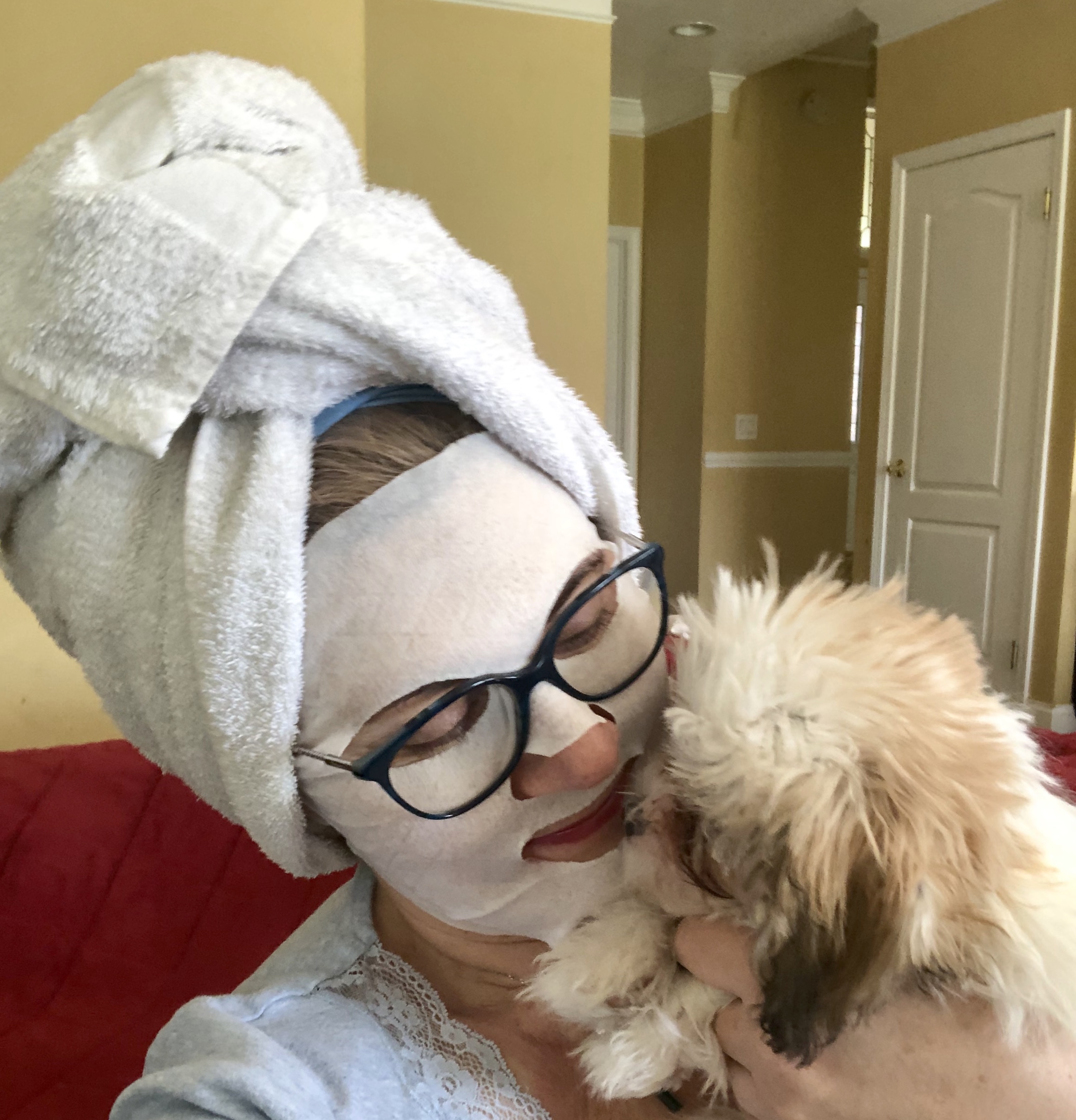 Massage and set an intention. Now it's time to give yourself a 10-minutes facial massage. I use the active gel from the mask but you can apply a few drops of hydrating oil. Always sweep your hands from the center of the face out and upwards. Don't forget the jaw and the lower half of the face. Make a peace sign with both hands and bend fingers to create bunny ears. Use the pressure between your bent fingers to cradle the jaw and stimulate lax muscles. Be gentle around the eyes because the skin far more delicate.
Today my intention is to enjoy the peace I create in myself.