As we know a lot of people having Botox treatment for wrinkles will not be able to receive their next injection in time. And, let's face it, this is a particularly frown-heavy time for all of us.
I use in my practice two products that sustain and prolong the effect of Botulinum toxin: Environ's award-winning "Peptide Enriched Frown Serum" and Meder Beauty Science "Myo-Fix Concentrate".


Environ Peptide Enriched Frown Serum ($135)
This product contains a concentrated blend of peptides that soften muscle activity around the eyes and forehead, visibly reducing fine wrinkles and frown lines. Vialox produces a Botox-like reduction in wrinkles. Argireline reduces the depth of wrinkles caused by contraction of the muscles for facial expression, especially in the forehead and around the eye area. And Leuphasyl works in a different way to soften muscle activity and compliments the effects of Argireline to block the contraction of facial muscles.
HOW TO USE: After cleansing and toning apply 1-3 drops of frown serum and massage into the skin. Allow to dry and follow with your moisturizer. Use morning and night. Suitable for all skin types.
ENVIRON is a consultation only product line due to the very high levels of active ingredients. Please email at oana@orchidestheticsfacial.com or call directly at 585 402 5751 for advice to order your product.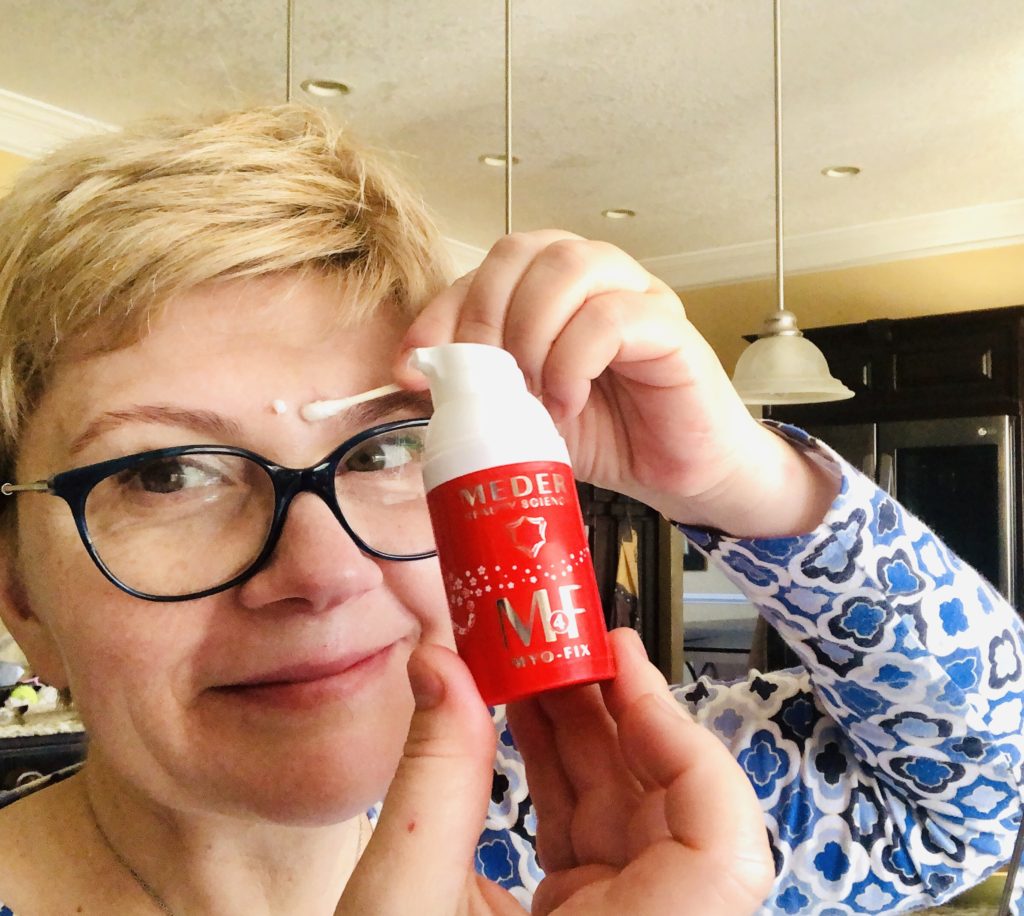 Meder Beauty Myo-Fix Concentrate ($154) Backordered
It includes three strong myorelaxing peptides immobilizing the skin. Forehead wrinkles can decrease by 31% delivering a dramatic smoothing effect in just two months. A light numbing sensation may occur in the areas of application.
Acetyl Hexapeptide-8 decreases visible effects of aging by reducing deep wrinkles and lines on the forehead and around the eyes. Leuphasyl helps facial muscles remain at rest and prevents the formation of wrinkles and expression lines. Peptide Syn-Ake, a biotech imitation of Indian viper poison toxin, inhibits the reactions causing muscles to move or contract. Palmitoyl Pentapeptide-4 stimulates the synthesis of collagen and other structural elements of the skin.
HOW TO USE: Apply a small amount of concentrate directly to the frown lines, crow's feet, nose bridge and around your mouth twice a day. Rub in intensely with a cotton stick. Follow with your cream. Do not use simultaneously with retinol and AHA-acids. Do not apply to the eyelids!