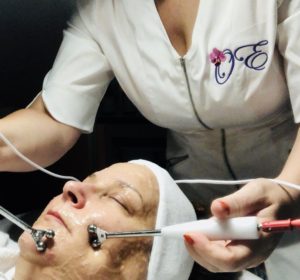 This machine helps everybody by firming the skin, reducing the fine lines, wrinkles, facial puffiness, and brightening the eye area. It is made in United States, and it allows me to customize to my client's needs using different programs for firming and toning each area of the face and neck. Clinical trials were performed at the University of Washington, for measuring the benefits of Micro-current and the study has shown: collagen was increased by 14%, elastin by 48%, and blood circulation by 38%.
All my clients who tried the "Nue Fusion 200" are very pleased with the results.
You can check out this short video made by CNN featuring the "Nue Fusion 200"
If you are looking for a more youthful appearance, I invite you to add one micro-current treatment on your next facial.